Rugby is a physical sport and is definitely a tough one. Players do not wear helmets or pads and they are required to be in a good physical condition all throughout the playing season because the game demands strength and a lot of running. But many love playing the sport because it is very fun and challenging.
This famous English sport is played by two teams with up to 15 players each. Each of the team carries, passes or kicks the ball to the goal to score as much point as possible. One game is consists of two halves of 40 minutes with about 10 minutes break in between. The game itself has no time outs except for special circumstances like when a player becomes injured.
Since the sport required not much equipment or gear, players or those who are interested to play the sport invest heavily on shoes. Rugby requires a lot of running on a long period of time so a good pair of rugby boots is necessary.
But choosing the best pair of rugby boots may depend on factors such as the player's position and the type of game. It is not about how expensive the shoes are. It is about how well it is going to perform in the field.
A total understanding of the sport is needed to determine which is the best pair of shoes for you.
Rugby Union and Rugby League
To understand the sport better, you must know that there are two different code classification of rugby.
Rugby Union has 15 players for each team with 7 substitutions allowed by each side during the game. Players score points by touching the ball past the opposing team's try line and by kicking the ball through the team's goalposts.
There is no limit in the number of tackle a player can make in the game. When a player is tackled during the game, the ball can be picked up by just about any player from any team.
In Rugby Union, a try earns 5 points, a penalty kick or a drop goal is 3 points, and conversion kick is 2 points.
In Rugby League, each team consists of only 13 active players with 10 substitutions allowed during the whole duration of the game. To score a point, players will direct the ball towards the goal. The opposing team will try to tackle the process and intercept it. When a player is tackled, he must drop the ball and roll it with his foot so the ball can be picked up by someone else. Here, there is a limit in the number of tackles made.
In Rugby League, a try is worth 4 points, a goal is worth 2 points and a field goal/drop goal is worth 1 point.
Features to consider in Good Rugby Boots
Before finally purchasing a pair of rugby boots, you have to determine what position you are going to play in the game. Remember that rugby boots have differences in designs to fit a player's position. Other factors to consider are as follows.
Sizing and Fit
Rugby requires a lot of running and tackling and as a player, you must have comfortable boots with the right size and fit. But it is also important to note that different manufacturers have different sizing chart so you have to check carefully. A pair that is small may cause discomfort and worse, pain after a tough game and a pair that is too large may affect your speed and overall performance.
Materials
The materials will depend on the preference of the player and what they think will be the most comfortable for them. Usually, rugby boots are made of synthetic materials or leather. Leather is the most durable but hard to maintain because of factors such as weather while synthetic ones are water-resistant and more affordable but generally less durable. Most players prefer the synthetic ones.
Style
Rugby boots have different cuts for many players to choose from. Players usually decide based on their position but ultimately, comfort is one of the main factors when choosing a style of rugby boots. The style generally ranges from low-cut, mid-cut, and high-cut. Low-cut is best for running. The mid-cut ones are best for support and stability. The high-cut gives good grip, support, and balance which are good for defensive players.
Boot type
This is generally divided into four: soft ground, firm ground, artificial grass, and hard ground.
The soft ground boots are designed from soft or muddy fields. Most soft ground boots have detachable studs to allow players to adjust their length based on the field's conditions.
The firm ground boots are the most common type of boots as players can use them on various field types and is also good for all positions. These booths have about 10 to 14 studs on the outsole and have a more firm grip that the soft type.
The artificial grass boots are made especially for fields made of artificial grass for better grip, speed, and agility function. According to experts, some boots can cause injury to players if they are on the artificial grass field so it is better to use shoes specifically made for them. These shoes are similar to the firm ground cleats but they have more studs on the outsole. These shoes are very durable.
The hard ground boots are made to be used for hard surfaces and turf fields. They have fine rubber studs that are placed across the outsole for stronger traction in the field. These type of rugby boots are designed and somewhat look like normal athletic shoes.
Since rugby has different playing fields, each type of shoes differ and should be carefully selected. It may cause you injury as players if you select a wrong pair for a selected field or if your position in the sport requires you to do more. Rugby can be complicated even if it is a fun and challenging sport. The boots, being its main equipment, should be given enough priority.
Comfort
Here, it is again important to emphasize how active and intense a game of rugby can get and it is easy for players to get carried away. It is easy for most players, especially those who have their eyes on the goal, to disregard pain and even injuries for victory. However, these factors can greatly affect the next game's performance.
Brands today highlight comfort as one of the best features of their product and it is actually a good thing. If you can find a pair that performs, has great design, and offers ultimately comfortability, then you are very lucky.
Value
Rugby boots are often expensive because not all sports brands produce it and there are a lot of things that go with its production — think of technologies use, the position of cleats, and design that is both durable and comfortable. It is important to work on a budget first before actually purchasing one.
The good news today is that some well-known brands are producing quality rugby boots at a great price point. This is a good thing especially for those who are starting with the sport because they can have the option to try without investing much. For more seasoned players, however, who are required to be in the playing field every day, a durable, high-quality pair is more necessary, even with higher price point.
The Best Rugby Boots 2023

Why we like it:
Extremely lightweight and great design
Editor's Rating:
Adidas may be a well-known brand but most of their products deliver. One of the best examples are these rugby boots which are probably the lightest and the most comfortable. They are made for soft grounds, the removable studs are remarkable, and are great to be used by backs and kickers. Originally, there were manufactured in 1994 but the new version is as great as the old one. And yes, they do perform well on the field.
The boots have Adidas' "Speedtraxion" stud alignment which is made for maximum acceleration. The heels have sprint frame construction which aids greatly in running, especially when changing directions during the game. But even if these boots are lightweight, many can say that they are durable too and can stand long play.
They are also very comfortable to wear but you must carefully check the fitting because you wouldn't want an injury because you have smaller or larger boots that don't fit you perfectly.
The Predator Malice SG also have striking designs that will surely look good on you.
Pros
Lightweight
Great design
Durable

Why we like it:
It has great designs plus it is low cut making you run fast and turn quickly
Editor's Rating:
ASICS has been making quality sports shoes that delivers. For many years, it has been a brand of choice for players, regardless of the price. The Gel Lethal Speed Rugby shoes is one of the top choices for rugby players because of the technology used that can aid during play and the comfort it provides.
These low-cut shoes are made from synthetic materials and boast of ultimate agility and mobility for players especially those who are running on the field most of the time. It features the HG10mm heel set-up with a higher upper height to help reduce strain on the lower limbs. It also has a Propulsion Trusstic System for stability.
The GEL-Lethal Speed has an EVA midsole so comfort is a no issue. The style and the three different colors are strikingly beautiful too.
Pros
Great design
Low cut for comfort and speed
Cons
Not as durable as leather but performs nonetheless

Why we like it:
Superb design, comfort, and power combined
Editor's Rating:
Canterbury is a well-known brand for rugby shoes. It is also among players' favorite because of its performance on the field and its many features that benefits the players.
These rugby boots are constructed on a PowerLast that has a wider fit on the forefoot giving utmost comfort. It has the signature Canterbury heel raise at 88mm, which is indeed helpful is reducing leg strain.
The Stampede 2.0 is built for soft ground. It is made of synthetic PU and has a padded collar with 10mm foam. While it is synthetic, the boots are guaranteed durable and can stand longer play. It comes with 8 studs and a bonus TPU traction.
This is the ultimate power boots and although it is a little bit expensive, it is worth investing given its features and superb design.
Pros
Power boots
Comfortability at its finest
Durable

Why we like it:
Great combination of materials that are durable, outstanding features
Editor's Rating:
A true legend in the field NIke Tiempo Legend VII rugby shoes screams of power and comfort. It is arguably one of the best in the market today.
The shoes, specifically made for soft ground, are made with ultra-soft leather construction and the Nike's signature Flynit constructed on the heel and midfoot with Flywire cables. This gives the shoes comfort and just the right fit. It also adds breathability and support which is essential to players who are into such a tough sport.
The Tiempo Legend VII contains the Nikegrip technology that helps prevent the foot from sliding further inside during play. It also has stability pods inside the collar for ankle's utmost support and a hyperstability place for lightweight traction.
The firm ground shoes is also good for use in slightly wet fields and it will continue to keep you secure throughout the play.
While it is undeniably expensive, it is still worth investing.
Pros
Leather and flynit materials combined
Offers breathability through the flyknit feature
Durable
Great features
Cons
Higher price point
Needs further breaking in since it is made of leather and can be tight during first use

Why we like it:
It is very light weight and give players the utmost comfort they need
Editor's Rating:
These Under Armour high cut rugby boots look absolutely stunning. They have great designs and are equally great for players in tight five forward positions. The design boasts of comfort and stability and you can fall in love at first sight on these, definitely. Aside from that, these boots are utlimately lightweight at less than 11 oz. And for many athletes, lighter shoe performs more in terms of speed.
The upper part of the Highlight MC is made with Under Armour's ClithcFir ankle sleeve, or a compression sleeve that gives stability in the ankle and a more thorough fit through its padded tongue. It has a PlasmaX Plate technology that is said to mimic foot action for comfort and flexibility. It also has a V56 technology that aims to limit the level of hyperextension to the toe to prevent injuries.
What's even more amusing on this rugby boots is that the inside is made with the same body-hugging materials used in their garments and is meant to be a second skin to provide feet with comfort.
This is one of the best choice for forwarding players who aims for stability during play. The shoes are very durable to and is guaranteed to stand long and rough games.
Pros
Superb design
Ultra lightweight
Very comfortable
Cons
Players with wider feet can be uncomfortable with the high-cut design

Why we like it:
Great color selection, great technology, and provides comfort
Editor's Rating:
The Nike Vapor 12 Pro firm ground rugby boots have amazing design and color options. It gives you the power you are looking for without breaking the bank so it is one of the most popular boots for both pro and starter players.
These boots feature a micro-textured, premium synthetic upper that comfortably wraps around the foot, making it secured and comfortable during play. It's ACC or All Conditions Control makes it suitable for both wet and dry weather. The podular plates located at the sole of each shoe contours the shape of the foot giving additional comfort and responsive traction.
One of the best features of the Vapor 12 Pro is the Chevron studs that provides great speed and quick stops.
Pros
Stunning colors and design
Comfortable
Chevron Studs for speed
Great price point
Cons
Synthetic material is less durable

Why we like it:
Advanced players enjoying the barefoot feel this pair brings
Editor's Rating:
The Mizuno Morelia has been a popular line of rugby shoes. It has undergone some major changes over the years and come up with something bigger and better. Materials have been updated and comfortability is taken to the next level.
The Morelia 2 is not only a good choice for rugby players but also for those who play soccer. It is made from soft kangaroo leather uppers, making it soft and lightweight at only 8.1 oz. It boasts of an ultra-comfortable"barefoot" feel.
This limited, made in Japan model, also uses a washable kangaroo leather that works great in reducing the amount of water is absorbed, making it suitable for play even on wet conditions. It has a Wave-Fit Lacing system in which lace holes are put in a zig zag shapes for sturdy fitting. It also has 13 PU studs that are line on the sole in order to alleviate pressure points. The shoes have dual-density soleplate made of nylon to make it more durable and flexible.
This is the perfect choice for advanced players who love the barefoot feel and the comfort that soft uppers bring. One of the most expensive rugby boots in the market but with the technology and materials used, it is worth the investment.
Pros
Made of kangaroo leather
Barefoot feel
PU studs targeting pressure points
Great for wider feet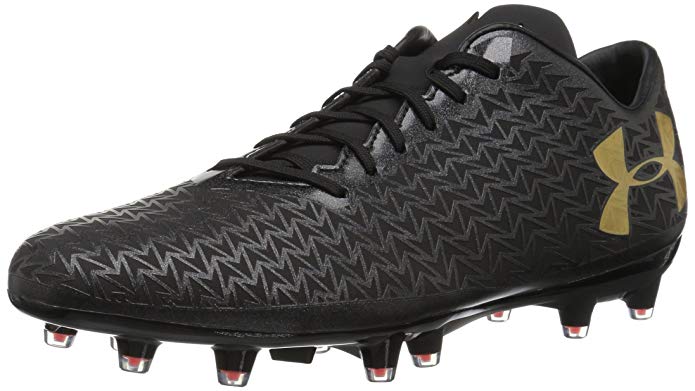 Why we like it:
Studs are fully customizable and replaceable
Editor's Rating:
The Under Armour CoreSpeed is lightweight and is all about speed. The durability is unquestionable as well, given the brands reputation — Under Armour has a selection of superb rubgy boots that deliver in the court.
The CoreSpeed is made of synthetic leather uppers, providing a more comfortable feeling on the foot. It has a 3D printer layer on top the upper for an enhanced touch and better feel of the ball on the foot. Its special "Charged Cushioning" technology on the footbed absorbs impact and its newly innovated cleat plat works to mimic and aid the natural movement of the foot. It also has an internal shank built with BZM for utmost foot support and flexibility.
The good thing about these boots is that the studs are customizable. The overall design looks clean as well.
Pros
Customizable studs
Great for speed
Charged cushioning technology on the footbed
Cons
Runs a bit small to some so its needs breaking in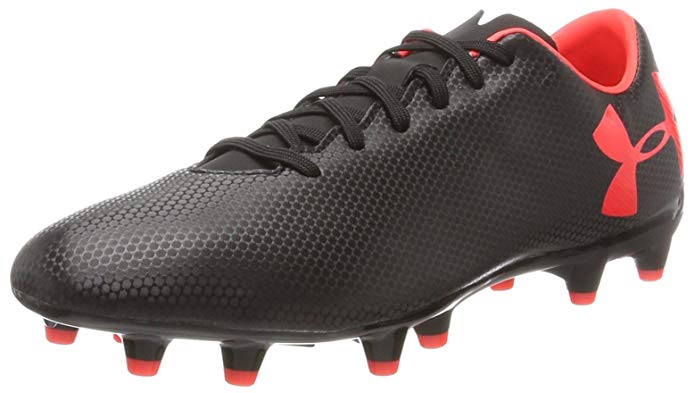 Why we like it:
The force is really within and it delivers
Editor's Rating:
Capping of the list is another one from Under Armour — Force 3.0 FG. The first thing you would notice about these cleats are its clean look and superb color selection. The white and black ones are sleek but other colors are striking such as the orange one.
Force 3.0 is very lightweight with a comfortable upper and solid soleplate that is very flexible in the forefoot. The upper is made with Trivela microfibre that aids in mobility and gives a good amount of support on the foot during play. This model also has the Charged Cushioning that reduces impact. The heels also have an anti-slip material, giving you more control all over.
This is a great choice for backs and wingers playing on firm ground. The price point is great and it is very durable. Truly a great option for those who are looking for a pair from a good brand that truly delivers.
Pros
Anti-slip heel feature
Under Armour's Charged cushioning technology
Comfortable
Cons
Not for soft ground
Runs small
Not for wider feet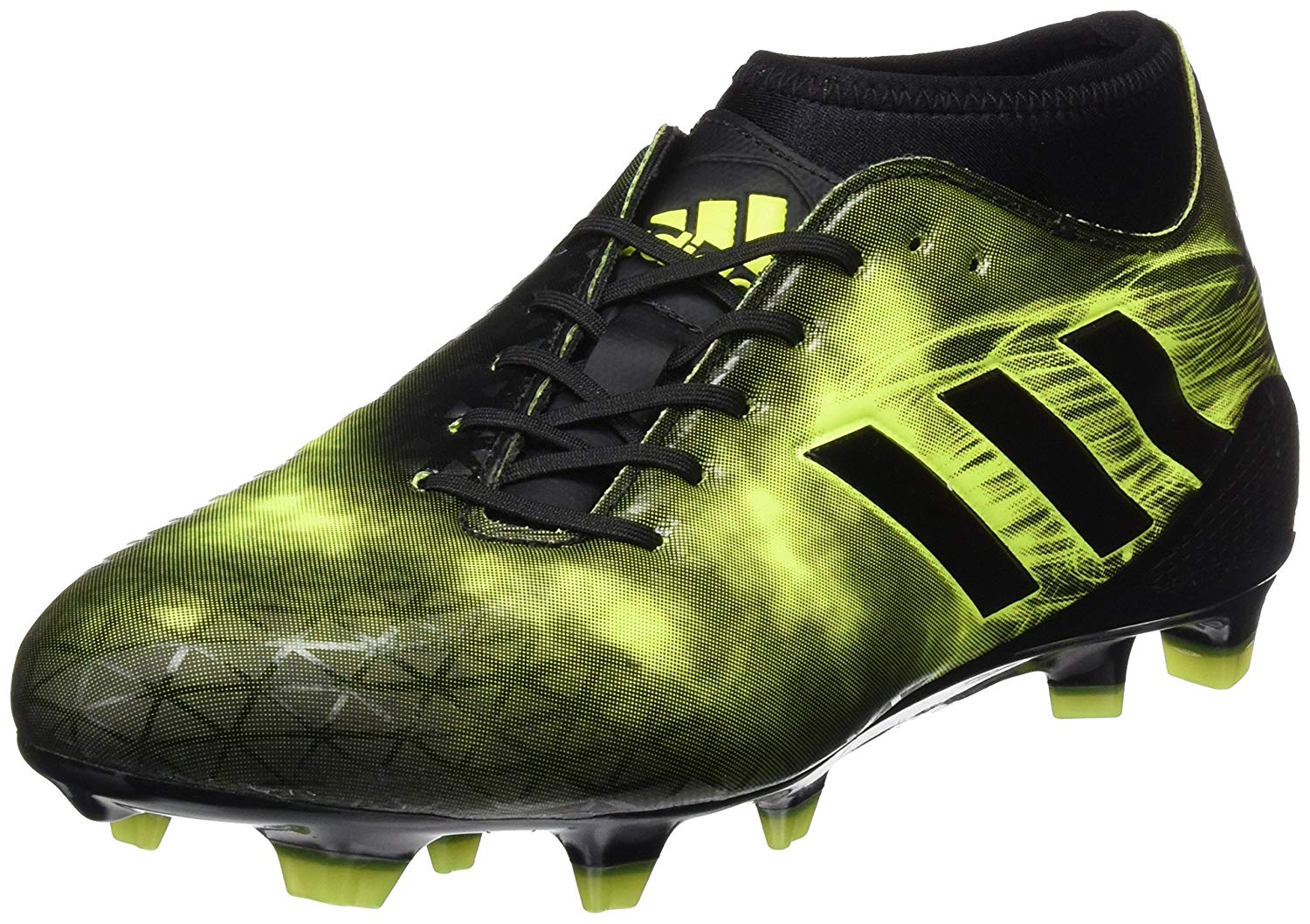 Why we like it:
Great for soft ground play. The overall design of the shoes is beautiful and it provides comfort and speed at the same time.
Editor's Rating:
Another entry from Adidas with awesome design, comfort, and power. The adizero Malice is definitely a top choice for more rugby players.
The shoes are made from light-weight materials and are preferred by backs. It comes with an elastic sock made from neoprene to provide protection in the ankle, as well as comfortable snug-fitting. It also has an asymmetric lacing system that gives a larger surface area on the top of the forefoot for power kicking. Included in the features is a"sprintframe" to help you sprint past the opposite player.
These shoes are made to be won on soft ground but the studs are ultimately design to prevent the mud from getting stuck so speed will be no issue.
Pros
Great for soft ground
Elastic socks for ankle comfort
Provides speed
Guide to Buying the Best Rugby Boots
In rugby, there is no specific rules that players playing for different positions need to have different rugby boots. Back players however, has a different preference because they do a lot of running aside from the mauling so they generally need a lighter shoes for comfort and stability.
The forwards also run but they are the one in charge more of the rougher side part so they also need something more durable.
Aside from position, proper fit matters greatly in finding the perfect pair. It could be quite difficult to order online especially because some boots run smaller and some run larger. Seeing them personally is the best thing to do if you are looking for your new pair.
In order to find the best boots that fit you, you might want to consider the following:
The brand
If you have a brand preference, you can particularly check the sizing guide. Experts say that it is best to order the size of the country you use to buying them from. And most probably, the brand has a uniform size. It will just depend on the shape of the front, if it's pointed, a bit narrow, or just right.
The first time you are going to use it
Don't buy a pair f you are going to use it immediately during the game. Some boots need further breaking in and when worn for the first time during a rough game with a lot of movement, you might be able to feel uncomfortable or worse, get injured. Most shoes need breaking in and it is actually a good thing.
The kind of cleat you will be using
This plays a big factor as well cause sometimes, the number and position of cleats on a pair of shoes can cause discomfort if it has uneven distribution, affecting the pressure points on the foot. Some brands design their studs to help alleviate pressure but if you are the kind of player who is not sure if you have sensitive pressure points, it is best to check on a few pairs before buying one especially if you want to invest in a more expensive pair.
Taking care of your rugby boots
It is important to clean your pair of rugby boots immediately after playing. These shoes endure heavy dirt during play. Some even get wet if used on a soft and wet field. These factors, of course, will ultimately affect the condition of the boots and their materials and can affect the durability in the long run.
Boots made of leather should be wiped immediately and should be kept dry. The synthetic ones should be wiped and be stuffed with newspaper to retain shape.
The studs included in a pair of rugby boots need proper caring as well. It can be damaging to the studs if you are going to use the shoes on hard surfaces.
Remember that these are specialized shoes and proper caring is a must to keep them on top form.
Conclusion
Rugby might appear to be a simple sport when it comes to gears because there is almost no protective gear worn by players. Some even think that the sport only requires a good pair of rugby boots to get through a solid game.
In reality, finding that great pair of boots is very difficult. There are a lot of things to consider and not all sports brands or manufacturers have a shoe line solely for rugby shoes. And because of this, most rugby boots are deemed expensive. Some players even use soccer cleats when playing rugby but it is important to note that there are really cleats that are solely and exclusively made for playing rugby. These are the ones that can produce the right traction and protection for injury and can give the speed and comfort that most players wish for.
The position as a player also plays a big role when selecting the shoes. Are you always running in the field? Are you responsible for the defense? Will the boots stand a lot of games?