A good basketball hoop can bring years of joy. It's a great place for kids in the neighborhood to meet up, practice their skills and compete in shooting games. However, that doesn't mean adults can't have fun with it, too. If you're sitting in front of your computer all day, being able to relax and shoot hoops in your driveway or backyard after work is just absolutely priceless.
The best basketball hoops make it possible for almost every family to enjoy the fun that basketball can provide. Nowadays, most homeowners opt for the versatility of portable basketball hoops, but those tend to rattle and shake after every shot. If you have enough space to install a permanent basketball hoop, go for it – you'll have a lot more fun. Therefore, if you don't want to miss out on the fun of shooting hoops in your driveway, here's a review of the best basketball hoops in 2023.
Features to consider in Good Basketball Hoops
A basketball hoop is an investment that sits in your driveway for all to see and for years to come. Oftentimes, a hoop is used by more than one generation. However, shopping for a home basketball hoop may sound easy enough, but like many other products, there's a variety of brands, sizes, and models to consider. With so many options, it's easy to become overwhelmed. For these reasons, it's recommended that you opt for quality and a trusted brand with at least some of the following features.
Tempered Glass Backboard
Tempered glass is a toughened form of glass that has been treated with chemicals to help prevent shattering. Therefore, tempered glass is an extremely safe option for your home basketball hoop. Tempered glass is also superior to plastic backboards that lack the performance that glass backboards provide. So, if you're looking to truly replicate collegiate standards, a 72" tempered glass is the answer.
Height Adjustment
Having the flexibility to change the height of your basketball hoop means that the whole family can enjoy some friendly competition. A hoop that adjusts from about 6 or 7-feet to 10 is recommended, that way little ones just starting to learn the sport can access the hoop, while older, more skilled players can enjoy a hoop that mimics regulation standards. Some basketball systems feature an internal mechanism to adjust the height, a bonus that offers an additional measure of protection for your hoop.
Portability
You should look for a system that allows you to transfer your hoop if you move. Some hoops come with wheels that make it easy to move them around to accommodate your game.
Durable, Long-Lasting Materials
A sturdy home basketball hoop will be made of steel that's coated with at least a few layers of primer and enamel, to protect it from the elements. You should look for one-piece structures rather than those that are cut or welded. The hardware should also be made of steel.
Nets
Hoops commonly come with nets made of nylon. Nonetheless, you can also use a chain-link net that can have a long lifespan but also rust if left out in wet weather. Breakaway net clips can be added. They'll disengage if too much pressure is applied.
Bases
This is exclusive for portable basketball hoops. These are typically filled with water or sand to keep the hoop grounded. In colder climates, a small amount of anti-freeze in the base will help keep water from turning into a block of ice.
Safety and a Safe Play Area
With any type of product intended for use by the kids, it's important to consider safety factors. That's why models that incorporate an extra bit of space between the pole and the backboard are suitable. This creates a bit of a cushion for the kids as they practice their skills, play intense games of 2-on-2, shoot "Around the World" and more.
The quality of the pole and backboard does affect safety. If the goal isn't strong enough to handle the activity of the players, it'll breakdown and potentially cause injury. It's better safe than sorry and in the world of basketball hoops that means it's wise to opt for materials like powder-coated steel poles and tempered glass backboards.
The Best Basketball Hoops 2023

Why we like it:
This basketball hoop is the perfect goal if you have kids or beginners that enjoy playing basketball in their free time. It's a great cost-effective way to get the kids to be more active or for a beginner to learn the fundamentals of basketball.
Editor's Rating:
Backboard
The polycarbonate material of the backboard is the reason why the Lifetime 90020 is so inexpensive. Everything about the material, from the responsiveness to the strength, is just slightly below average. It makes a 'thud' sound and shakes from side-to-side after a hard or long-range shot attempt.
That's not to say that it provides bad quality, it just doesn't give you the feeling that you're playing with a professional basketball hoop. That's why the hoop is great for kids or beginners because they wouldn't know the difference.
Rim
The Lifetime 90020 features a quality slam-it-rim with a 5/8-inch ring of solid steel, with ½-inch steel braces and double compression rings. These features mean that you can take the fight to it and slam it down hard just like the pros do on TV without worrying about the backboard bending or shattering. With the easy height adjust mechanism, young ones can lower the hoop by themselves and dunk as if they were Michael Jordan.
Stability
This has to be the weakest point of this basketball hoop because the support pole is 3.5-inches in diameter, making it vulnerable to shaking from side-to-side just by a gust of wind. The shaking and wobbling can get very annoying during game-play because it affects your shot attempts. The support pole on the Lifetime 90020 is just not enough to handle aggressive play and difficult shots.
Installation
The instructions are easy to read and they get to the point. The equipment that comes with the hoops isn't heavy so you're able to lift it yourself and screw the pieces in where they need to be. There's no need to hire professionals to come in and set the hoop up for you unless you want to be extra careful and want to make sure everything is done right and to your standards.
Value
The main selling point of the Lifetime 90020 is that it's inexpensive. Considering that it has a polycarbonate backboard and thin support pole, it still makes a wonderful hoop for kids or beginners to play on. The 22-inch overhang allows for players to play under the basket without worrying about running into the support pole.
Pros
It's easy to adjust the height.
It comes with clear instructions making it easy to install.
It's ideal for beginners to train on.
It's quite affordable for beginners to train with.
The 22-inch offset gives players a little room to operate under the hoop.
Cons
The three-piece support pole means that this hoop will vibrate moderately when shots hit the rim.

Why we like it:
If you're looking to buy the first height-adjustable basketball hoop for your kids, and you don't want to spend a fortune, this is a great choice. Very light and portable, the height is adjustable and the material durable enough to withstand rain and wind for years.
Editor's Rating:
Affordable
The Lifetime 1221 Portable Basketball System is one of the cheapest portable basketball hoops on the market. It'll cost you less than $150 to get one for yourself. Without a doubt, the low price point of this hoop is a big reason why it's among the top-selling basketball hoops.
Assembly
Aside from the value pricing of the Lifetime 1221 Basketball Hoop, the easy assembly is probably the best feature of the hoop. Most able-bodied individuals should be able to have this thing up and ready to use in under an hour. It also comes with clear instructions on how to assemble, making it even easier to put it together.
Quality
It's safe to say that a basketball hoop that comes with the price of the Lifetime 1221 isn't going to blow you away with its performance. The blackboard, while durable, is made from a cheap polycarbonate that performs in a flimsy manner when the basketball hits the board.
Rim
This basketball hoop features a standard rim without any springs or breakaway mechanism. However, the rim performs better than expected when considering the price of the hoop. Compared to other basketball systems that have cheap breakaway rims that vibrate a lot when shots hit the rim, the Lifetime 1221's standard rim performs better.
Support Pole
Featured on this basketball hoop is a three-piece vertical support pole. This vertical three-piece design isn't as sturdy as those found on other hoops. The support pole is round and made of steel. Due to this support pole design, the basketball system will shake a lot during shots. However, this may not be a big deal.
Fill Base
The fill base on this hoop can hold up to 27-gallons of water. This is one of the smallest fill bases found on any portable basketball hoop for sale today. Because of this, dunking isn't recommended on this basketball hoop as the small fill base combined with the vertical design of the support pole may leave it susceptible to tipping.
Height Adjustment
With the Lifetime 1221 Basketball Hoop, you can adjust the hoop's height using the telescoping mechanism from 7.5-feet to 10-feet. This can be done in six-inch increments.
Pros
It has a colorful backboard design.
It features a decent standard rim.
The instructions are clear making it easy to assemble.
It features an attractive nylon net.
Cons
The vertical support pole could cause collisions with the support pole when attempting layups.
The backboard isn't sturdy.

Why we like it:
The Spalding Pro Slam has a Plexiglas backboard meaning that it's clear and see-through. It also has back-marking on it that'll help to line up free throw shots.
Editor's Rating:
Backboard
This is the ideal basketball hoop for those looking for a solid piece of equipment that can be used for a long time. The Pro Slam Portable Basketball Hoop features a 3.5mm thick acrylic backboard, lined with a steel frame. The 54-inch wide area of the backboard allows for a great space to knock out a layup and a quality surface as well.
The acrylic material gives a good bounce coming off the backboard and is superior to the polycarbonate backboards found on many portable hoops in the same price range. Players of all ages can benefit and use this backboard due to the size, as smaller backboards can have an impact on the quality of the hoop's performance. The heavy-duty acrylic is simple with minimal graphics but allows for a great surface and simple look in your driveway.
There's also board padding running along the bottom of the backboard for protection when taking it to the hole. This hoop also comes with a Pro Slam breakaway rim that can withstand some mild dunking.
Support Pole
The Spalding Pro Slam Basketball System comes equipped with some great features on the pole. The Extra Height Lift system allows the hoop's height to be adjusted from 7.5 to 10-feet in 6-inch increments. The hoop can grow with you and those who use it. Players of different heights and ages can also enjoy playing with the hoop.
Fill Base
The Pro Slam comes with a 34-gallon plastic base that can be filled with either water or sand for stability and durability. There aren't any issues with the base leaking, and the plastic wheels allow you to move the hoop once the base is empty. One issue with movement is the angled pole. It can cause moving the hoop to be difficult due to the angle of things and weight distribution.
Assembly
Assembling the Pros Slam Basketball System seems moderately difficult and rather time-consuming. However, once the hoop is together, most reviewers found it a quality hoop for their driveway or yard. Making sure to have an assistant to help you put the hoop together might allow for a smoother experience.
Pros
It features a solid acrylic backboard with a steel frame.
The angled pole offers stability and ease of play.
It has a nice range of height with easy maneuverability.
It has a strong net that's unlikely to break.
Cons
The side of the headboard is vulnerable to shots from the side that could damage the headboard.
Easier assembly instructions would aide in the time-consuming assembly process.

Why we like it:
The Goalrilla FT Series In-Ground Basketball Hoop is made with top of the line materials. The variety of the backboard sizes coupled with the high-quality system makes this one of the best in-ground basketball systems.
Editor's Rating:
Backboard
All Goalrilla basketball systems feature tempered glass backboards, and the Goalrilla FT isn't different. This basketball system comes in three different backboard size options: 54", 60", and 72". The backboard size you select will depend on your specific needs. For those looking for a hoop to fit in a smaller space, the 54" backboard would be suitable. While smaller, the 54-inch backboard still performs very well and still allows you to practice bank shots.
The 60" and 72" versions are best for hoopers that have large spaces and home courts available. For the vast majority of players, you won't require more than a 60-inch backboard. Only those who require a regulation size backboard on their hoop should opt for the largest backboard option.
Rim
The Goalrilla FT features a professional quality breakaway rim. This rim has a heavy-duty spring that's protected by a steel cover for enhanced safety and protection. You can expect this rim to have gym quality feel and performance. To top it off this rim can handle dunking, which is something you'll likely be doing since the hoop can be lowered to 7.5-feet.
Support Pole
The Goalrilla FT comes with a one-piece square steel support pole that's powder-coated to protect from rusting. One-piece support poles are the best available and are found only on the best in-ground basketball hoops.
With the support pole system comes a bolt anchor system that bolts your hoop to the concrete foundation. This anchor system comes in handy if you've ever needed to move your hoop as it makes an in-ground basketball system transportable. Simply unscrew the bolts, load up the hoop, and go.
Attaching the support pole to the backboard are two wide-angle steel arms. These two arms attach at the horizontal edges of the backboard, creating even greater stability than systems that use a narrower attachment arm design.
Height Adjustment
As with most recreational basketball systems, the Goalrilla FT's height can be adjusted from 7.5 to 10-feet. This basketball hoop uses a crank system to adjust the height. Crank height adjustment systems allow you to adjust a system's height in infinite increments allowing it to meet your specific needs.
Pros
It comes in three different backboard sizes to help meet specific needs and budgets.
The single-piece support pole offers maximum stability.
It features a tempered glass backboard that's superior to acrylic and polycarbonate options.
The crank height adjustment makes raising and lowering the hoop easy.
The rim is a heavy-duty breakaway unit with enclosed spring.
Cons
The padding aligning the backboard and support pole would enhance the safety of this basketball system.
It's quite expensive.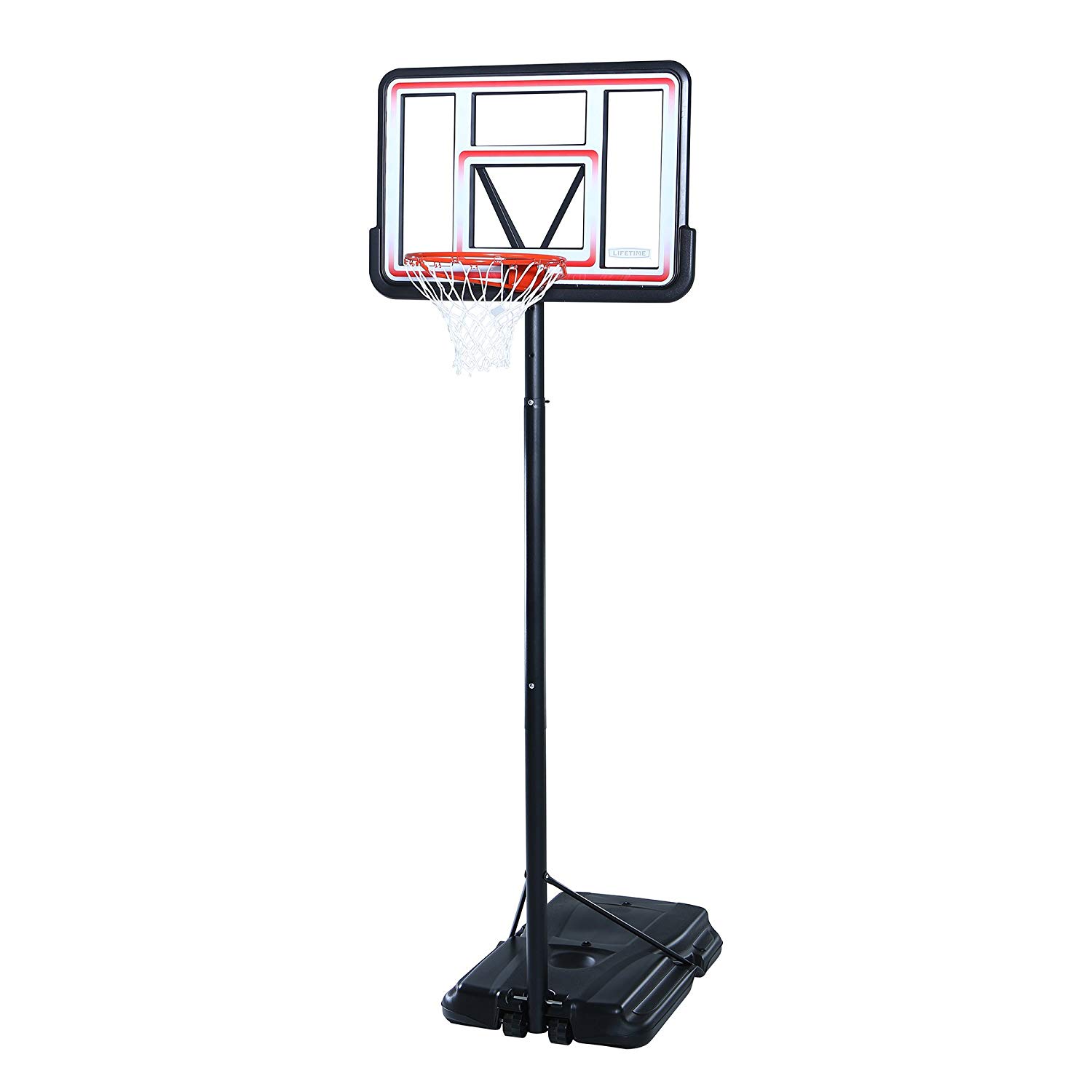 Why we like it:
The polycarbonate backboard is designed to be shatterproof. It's a 44-inch size that's suitable for most backyards and in the driveway.
Editor's Rating:
Backboard & Rim
The Lifetime 1269 Pro Court Basketball System offers a 44″ shatterproof fusion backboard constructed of high-density polyethylene for superior strength and durability. You can get much better bank shots and rebounds.
The backboard has a black frame around the edges and top and bottom. The backboard's interior has a red horizontal line at the top and bottom, along with lining the upper section of the target area behind the ring. Screen printing is used to create the decoration on the backboard. The rim is bright red and holds a heavy nylon net and should stand up to good and bad weather alike.
Assembly and Height Adjustment
Assembling the Lifetime 1269 is relatively easy and takes about 1-1.5 hour. No drilling or special tools are required. You can even manage to do it alone, but some steps are much easier done with two people. Some customers have, however, reported missing parts in the package.
For height adjustment, the Lifetime1269 uses the traditional system of cheaper hoops. You remove the bolt on the pole, set the height you like (from 7.5 to 10-feet in 6-inch increments) and reinstall the bolt. While this system works quite well, it's not ideal if you need to adjust it often. There are much more comfortable systems for that.
Sturdy and Durable
After you fill the base with water or sand, it gets quite sturdy enough for children or teenagers. Filling with water is more ideal as it's much easier to fill through the small hole. When empty, the hoop is easy to move on the 2 small wheels. When filled, it becomes rather hard to move it.
As with other Lifetime hoops, the durability of the Lifetime 1269 Pro Court is on a solid level. It holds up well even after a few years of use. There's no rust or fading and the system for adjusting the height still works without problems.
Pros
It's ideal for both indoor and outdoor basketball use.
It features welded steel for the hooks to keep the net hooked on.
It's sturdy and durable.
The 27-gallon base can be filled with sand or water.
Cons
The instructions are poorly put together, making it difficult to complete the assembly in a reasonable timeframe.

Why we like it:
This basketball hoop features a big 60-inch backboard made of tempered galls. The size is very close to professional dimensions and the additional weight and rigidity of the tempered glass make the rebound response much more satisfying.
Editor's Rating:
Backboard
The backboard on the Spalding NBA In-Ground Basketball System is 60 by 34-inch and is made of tempered glass. Tempered glass is quite responsive and is the same material used for indoor gym basketball hoops. The tempered glass is a very heavy material. That's why hoops with this backboard material need to have a serious support pole to properly handle the weight. An aluminum trim incases the glass and offers additional reinforcement. The lack of a backboard padding could be an issue for those wanting to take extra safety precautions.
Support Pole
The Spalding NBA features a 4″ by 4″ square two-piece support pole. Considering the 60-inch tempered glass backboard, this support pole is the minimum acceptable size recommended. Because of the weight of the backboard, you'll find that there's some shaking with this loop. Similar to most modern recreational hoops the Spalding In-Ground Basketball System can be adjusted in height from 7.5-feet to 10-feet. There's an offset of two feet from pole to the hoop so that you can work on your skills under the hoop.
Assembly
Most users aren't impressed with the assembly instructions and process of the Spalding NBA. Most complaints revolve around putting the two-piece support pole together as the two pieces don't seem to go together easily. It's also necessary to get help putting the support pole into the ground.
Rim
The Spalding NBA In-Ground Hoop features a Pro Image breakaway rim. Pro Image rims from Spalding have a spring mechanism and have a metal cover for protection. While the rim will bounce a bit, it's quite close to a true gym-quality basketball experience.
Pros
The hoop has a very professional look due to the backboard quality and breakaway rim.
This system can support aggressive and professional play because of the heavy-duty rim made out of solid steel.
The tempered glass board is a step up from boards made of acrylic or polycarbonate materials.
Cons
The manual isn't user-friendly and it at times vague according to purchasers of the hoop.
The installation process can be difficult without assistance.

Why we like it:
The hoop comes in two different backboard sizes allowing you to choose based on your needs and budget.
Editor's Rating:
Fill Base
The Spalding Hybrid Portable Basketball System has a hybrid base that can be partially filled with 19-gallons of water in combination with up to 200lbs. of sand or gravel. The top part of the base is detachable and will fill with water, while the bottom half of the base is where you can put sand or gravel. The advantage of this technology is that the hoop will be easier to transport than other portable basketball systems.
Backboard
The Spalding NBA Hybrid Portable Basketball Hoop comes in two different backboard sizes. These are the 54" and 60" backboards. The backboard is made of acrylic, which is in the middle ground of backboard materials. There's padding that aligns the bottom of the backboard enhancing the overall safety of this basketball system.
Rim
The rim on this portable basketball system is a heavy-duty arena slam-it breakaway rim. This rim features springs that are covered by a metal case that works to reduce rusting over time. When playing on this hoop, you'll notice some vibrations when the basketball hits the rim during shots. Overall, the rim's performance is quite impressive.
Height Adjustment
This hybrid basketball hoop from Spalding features a U-Lift height adjustment mechanism. This type of height adjustment technology allows you to raise or lower the hoop from 7.5-feet to 10-feet in infinite increments. This makes the basketball hoop a great choice for families with young children.
Pros
The hybrid base allows you to use both sand and water to weigh down the system.
It comes with durable netting.
It features a steel breakaway rim.
The U-Turn lift system makes it easy to adjust the height of the hoop so that younger players can develop good shooting mechanics.
Cons
The three-piece pole design will increase shaking when shots hit the rim or backboard.

Why we like it:
This basketball system has been designed for rugged, high-intensity play. The support pole for the backboard is a 3.5-inch diameter steel structure that reduces vibration and movement whenever there's an impact on the rim or backboard.
Editor's Rating:
Backboard
The first thing you'll notice about the Lifetime 7125 In-Ground Basketball System is that the 54-inch backboard has a professional feeling to it. It's made from polycarbonate, so you don't need to worry about it shattering on you during a powerful dunk. It isn't as heavy as tempered glass either making it a lot easier to install. As with other Lifetime products, the 71525 also has the added feature of a padded backboard to keep any elite jumpers safe. Moreover, the backboard offers a UV coating so you don't need to worry about it turning yellow over time like many acrylic backboards tend to do.
Designed for Rugged Play
Whether you're at the varsity or collegiate level or you just have kids that like to play aggressively, this basketball system by Lifetime is going to stand up to whatever high-intensity play you can throw its way. The double-compression springs on the rim allow players to dunk with confidence, while outside shooters can have confidence with the softness of the rim. The polycarbonate backboard also provides a relatively true rebounding experience.
Height Adjustment
Lifetime has created a power-life height adjustment mechanism that allows you to change the height of the rim with just one hand if needed. Keep it at the standard 10-foot height if you wish or bring it down to 7.5-feet for your younger players. The installation process of the height mechanism may be a challenge, so you need to take time with it.
Support Pole
The support pole for the backboard is a 3.5-inch diameter steel structure that reduces vibration and movement whenever there's an impact on the rim or the backboard. The backboard, although it's transparent, is also supported by steel structuring. It's powder-coated and has a rust-resistant finish to maintain the quality of the basketball system all year long. Scratches can produce some corrosion over time so you need to take some time when installing it along a driveway near trees.
Assembly
The assembly of the Lifetime 71525 adjustable basketball system takes some time. You should give yourself the weekend to get the hole dug and the pole set into the concrete and then take another weekend to finish the assembly. This way, you can have a consistent experience with this affordable basketball system.
Pros
The backboard raises and lowers easily.
The Power Lift technology offers players of all ages and skill levels, a chance to enjoy the game on their terms.
The rim has metal covers to protect the springs from rusting.
Cons
The assembly instructions aren't quite clear.
The polycarbonate backboard isn't very responsive.

Why we like it:
The Lifetime 90040 is a decent basic hoop for starters, family play or backyard practice. Due to its height and backboard size, it's suitable for children from approximately 5-years or teenagers.
Editor's Rating:
Assembly, Portability and Height Adjustment
While most users describe the assembly as "pretty easy", there are some who have experienced difficulties. This is likely due to the instruction manual having only diagrams and not text. It takes about 1-hour to put together, which is a standard for such an entry-level hoop.
Traditionally, the 27-gallon base can be filled with sand or water and the entire system becomes stable and sturdy. It takes quite a long time to fill it with sand through the small hole so you would probably choose water. It's also easy to move around using the little wheels but this becomes more difficult when filled.
The 90040 enables setting the height in 6" increments, from 7.5-feet to 10-feet. A single screw is used to accomplish this task and the system works quite well. However, not many users find that feature popular.
Durability
As with other Lifetime hoops, the quality and durability of the parts are on a solid level. The powder-coated steel pole feels nice and sturdy, the rim uses quality metal as well and there are no signs of deterioration even after a few years of service.
You should bear in mind that the 90040 is a basic hoop that's not suitable for a more serious play. The 44" backboard is made of polyethylene that absorbs part of the impact energy and the ball behaves differently than on glass, for example. It also rocks and vibrates.
Pros
It's sturdy and durable.
It features a strong white netting.
It's best for basketball training.
It comes with a classic red steel rim.
It's quite affordable.
Cons
The backboard can get unstable with heavy shots on target.
The fill-up holes are small enough to make it difficult to fill the base quicker.
A sand filling is recommended rather than water due to a risk of leakage at the seams.

Why we like it:
The Silverback In-Ground Basketball hoop is made from high durability steel, with a powder-coated rust-resistant base and breakaway rim. The entire system has been designed with safety in mind, as the breakaway hoop and padded pole ensure that even the hardest slam dunks will be carried out safely.
Editor's Rating:
Support Pole
The Silverback In-Ground Basketball Hoop utilizes a 4"x4" two-piece support pole. For the 60" tempered glass backboard this support pole is on the lighter side. This basketball system features a bolt-on system that makes assembly and moving the hoop in the future a much easier process. You also get some medium-duty padding on the support pole that enhances safety when players drive to the hoop. The hoop is also adjustable from 7.5-feet to 10-feet in infinite increments using a turning all-steel height adjustment.
Backboard
This basketball hoop comes in 54" and 60" backboard versions. Both of these backboard sizes are made from tempered glass. Something else that helps to make this an excellent buy is the zinc-coated hardware, and DuPont Armor Resistant Paint. Both of these added features of construction help to add to an extended shelf life in conjunction with the powder-coated base. The swaged two-piece pole also offers the stability and strength of a single piece pole, giving the Silverback one more beneficial reason to find its way into your backyard.
Rim
The Silverback Basketball Hoop comes with a quality covered spring breakaway rim. The basket on this hoop is a step up from the rims found on other hoops in the same range. While it isn't recommended to hang on this rim, it'll be capable of handling light dunks without causing long-term damage.
Pros
It comes with a 7-year factory warranty.
It's quite affordable, making it a good choice for anyone shopping on a budget.
The breakaway rim and padded pole give the maximum amount possible on an In-ground home-style hoop.
Weather-resistant paint and hardware make for extended life of the basketball system.
Cons
Because of the two-piece pole system and weight of 150-pounds, you'll most likely need assistance during installation.
Guide to Buying the Best Basketball Hoops
Whether you're helping your future playmaker improve their game or just looking to shoot free-throws in your spare time, a basketball hoop can become a cherished part of your home for the whole family. So where do you start? What kind of hoop is best for you and your needs? You'll need to take into account a variety of factors, from hoop location to backboard material. There are several styles and combinations but it will all depend on what best suits you.
Location
Before buying your basketball hoop, you'll want to have an area with plenty of space. A flat, paved area is usually the best, making driveways a popular option. If you decide to place a basketball hoop on the street or sidewalk, just be sure to keep street safety in mind. Some neighborhoods prohibit installation on these public space, so check with your borough first.
Types of Basketball Hoops
Once you know where your hoop will go, start looking at the available different types. There are three main types of hoops. Each has its benefits, with designs created for a variety of players.
In-Ground: These hoops are fastened into the ground with cement, making them a good option for families who expect this to be a part of their home for years to come. In-ground hoops often come with adjustable height settings to accommodate players of different sizes and skill levels. They're also stable and durable.
Portable: These stand-alone units have wheels for portability to easily move them around to accommodate your game. Portable hoops have bases that range in size and capacity, usually between 27 and 42 gallons, whereas others come with a base to be weighed down with other materials. Most come with height adjustability settings, making portable hoops a good option for parents with younger players who are continually growing.
Mounted: These hoops are typically a backboard and hoop mounted onto a structure, like a garage or exterior wall of your home. These hoops offer superior stability and allow you to make a court with limited room. Many mounted hoops are set at a fixed height, though some can be adjusted.
The Backboard
The material used in the backboard will affect how the ball bounces off of it as well as the hoop's overall durability.
Tempered Glass: This is the material used at the pro level. Tempered glass offers players a similar bounce and spin they'll find in gyms. Because tempered glass excels in backboard performance, it should come as no surprise that it's also the most expensive backboard material available. This will suit an advanced player who is very serious about their game and intend to spend many hours honing their skills.
Acrylic: These hoops offer the look of glass at a lower price. They also tend to be lightweight, so they don't need as much support. More experienced players may notice a different bounce or spin than they'd see at the gym.
Polycarbonate: These backboards are highly durable and offer a similar bounce as acrylic. They're designed to withstand the elements and tend to be common on less expensive basketball hoops.
You should also take into account the size of the backboard. These can range from 44" up to 72", which is the regulation size at the professional level. The smaller-sized backboards, typically between 44" and 54", save on space and are good for a standard two-car driveway. The 60" backboard is a great midway point, saving space but still offering a larger size for banking shots.
Backboards generally come in two distinct shapes, rectangular and fan-shaped. Rectangle backboards are more common and offer players more space to spin the ball off the glass. The fan-shaped backboards tend to take up less room. Sometimes, it can come down to with look you like better.
Rims
Probably the most important piece of the hoop's hardware is the rim as it comes into play on almost every shot. Almost all modern hoop systems come with some sort of breakaway mechanism that helps to relieve tension on the hoop when dunked to minimize the risk of breaking the backboard.
There are three types of rims found on recreational basketball hoops:
Standard Rim (No Springs)
The most basic rim that comes with recreational basketball hoops is the standard rim. Standard rims have been around for decades and have been used on all basketball hoops. Ever since spring-loaded breakaway rims came into existence standard rims aren't used as often. These days' standard rims are found primarily on low priced portable basketball hoops.
Since they don't have a breakaway mechanism, standard rims tend to bend, warp, and break when dunked. On the plus side, if you use them just for layups and regular shots they're decent depending on the quality of the system's other components.
Exposed Spring Breakaway Rim
Most modern recreational basketball hoops for sale today have a spring-loaded breakaway rim where the springs are exposed. There are usually one or two springs on these hoops. The exposed springs may tend to rust over time if you live in a humid climate.
However, these exposed spring rims are often of low quality. This often makes the rims too bouncy when the basketball hits the rim on shots. This impacts the overall performance of the hoop. Not to mention that over time these rims will still wear down with dunking.
Enclosed Spring Breakaway Rim
The enclosed spring breakaway rim is the top shelf of basketball rims and is generally found on mid-tier and top-tier basketball hoops. An enclosed spring rim found on a $600 hoop won't have the same quality found on a $1200+ in-ground hoop. One will be good, while the other will perform like the hoops found in professional arenas. This is generally due to the materials used, spring quality, and design. The springs on these hoops are enclosed in a metal cover so that they're not exposed to the weather elements. This helps them to last longer.
Support
Support Pole Design
Support poles come in three different designs: three-piece, two-piece, and one-piece. This means that a three-piece support pole uses three different pieces of metal to make up the support pole, while a two-piece support pole uses two pieces, and one-piece support uses one piece.
The bottom line when it comes to supporting poles is that the fewer pieces a support pole have, the more stable it'll be. Therefore, one-piece support poles are found exclusively on top of the line in-ground hoops whereas two-piece support poles are found on top of the line portable hoops and mid-tier in-ground hoops. Three-piece support poles are found on cheaper portable basketball systems.
Backboard Support
Less expensive basketball hoop options tend to have a brace that helps to adjust the hoop's height positioned at the center of the system. The highest performing hoops will have a thicker support pole and additional bracing that encompasses most of the backboard playing area. this reinforces stability for shots.
Because budget hoops don't have this bracing, shots that hit the left and right sides of the backboard tend to come off dead compared to when they hit the middle of the board where the majority of the hoop's support is supplied.
Hoop Height Adjustment
Almost all of today's portable and in-ground hoops feature some sort of height adjustment mechanism. Previously, you needed a broom handle to adjust the height of hoops. However, most often basketball systems today come with a handle or crank mechanism that makes height adjustment easier. Some of the least expensive options available still use a telescoping system where you can place a bolt through the support pole at various increments.
The most common range for hoops is 7.5-feet to the regulation 10-feet. Yet, some hoops have a greater range than this. Be sure to check the specifications of the specific hoop you're interested in to get an idea of its height adjustment range and adjustment mechanism.
Top Brands of Basketball Hoops
Buying sports equipment from a top brand is a born tendency of most sports lovers. So, you should know the top brands. In terms of reputation, Spalding is on top of the list. They're the official ball suppliers of NBA. You should feel proud of using a hoop from Spalding.
If you like to purchase a quality basketball goal hoop at the cheapest price, then you can count on LifeTime, another popular brand. Some other famous brands are SilverBack, Produnk, Goalrilla, and Ryval. All these brands are experts in manufacturing the best to satisfy your needs. They mainly design three types of the hoop. These are cheap, standard, and expensive. Little Tikes also manufacturers basketball hoops, but they manufacture only for the kids.
Bottom Line
When it comes to selecting the best basketball hoop, you need to consider the size that'll fit into your space and still give you enough room to play. The backboard quality will also matter, but you'll need to make a trade-off between the strength and materials. The hoop should have steel construction throughout and a fillable base. Such a model will last you for years to come. This review and guide to choosing the best basketball hoop above will help you to narrow down to one that'll suit your needs. Remember to consider your needs before settling on one.