For an aspiring boxer, the punching bag is one of the essential pieces of gear. These bags serve different purposes, but the underlying fact is that they help you punch better. There are different types of punching bags, but one frequently overlooked is the speed bag. These bags might be small, but the way they help to improve your overall performance is quite immeasurable. These little bags are as important as their bigger counterparts for adequate training. In many commercial gyms, it might be hard to find these bags; hence, you might want to get your own. There are many styles on the market, and it can be a challenge finding the right one. You might have to test hundreds of bags, do a lot of research, and expend time and energy searching for one that will suit your needs. Fortunately for you, we have gone through all that stress and give you an easy option. After testing hundreds of speed bags, we have compiled this list that reviews ten of the best boxing speed bags you can buy.
Furthermore, we have also provided a buying guide that highlights all the necessary information to consider before choosing a speed bag. Read on to find out these and more.
Features to consider when buying Boxing Speed Bags
Any great professional boxer will tell you how vital speed bags are to every aspiring boxer. They might not be as big as the conventional heavy bags, but they offer loads of benefit. In this section, we will consider the main advantages of speed bags. Later in the main buyer's guide, we will see some of the most critical factors that must be considered before choosing a boxing speed bag.
Why Boxing Speed Bags are important
The speed bag might be small, but it offers benefits that you will not find from other punching bags. Here are some of the benefits:
Enhances Hand Speed
Do you want to throw punches faster? Then get to work with a speed bag. Being a fast boxer does not happen overnight. The best and fastest fighters trained to be fast. To do this, they used speed bags.
Similarly, if you hope to improve your hand speed, you need to train. One round of using the speed bag requires that you use hundreds of movements. The more you do it, the easier it becomes, and the faster you get.
Improve Muscular Endurance
Throwing hundreds of short jabs in a short period will do wonders for your endurance. Throughout history, the best fighters and boxers have taught themselves how to dodge, throw punches, and keep their hands in position for many rounds at a time. This requires a great deal of muscular endurance. If you doubt it, hang a sock with other socks rolled up in it, hang it and punch it continuously for 10 minutes. Or you could use an imaginary speed bag. You will attest to the strain you feel in your muscles. Now imagine doing this every day using a speed bag. Using a speed bag does wonders for your endurance. And in a fight, endurance is one crucial factor that can determine a winner.
Speed bags have been described as the treadmill for your hands. Just as the literal treadmill strengthens your legs and improves cardio, a speed bag increases the endurance of your muscles and improves your cardio.
Improves your Hand-eye coordination and Timing
In a boxing bout, the two opponents need to punch, parry, and dodge in quick bursts. If you lack impressive hand-eye coordination, you will find yourself on the losing end more often than not. The best boxers have mastered timing and rhythm by using speed bags. Watching a master boxer working out using a speed box is a thing of wonder. They are so fast, and they do not miss a single beat! If you are a beginner, using a speed bag might be very frustrating because they are so fast. However, with constant practice, it becomes easier to do. And the easier it is for you to do, the better you get in the ring.
Overall Boxing Development
By using a speed bag, you develop your overall ability. You get faster, stronger, and more coordinated. It helps you develop the essential skills of parrying, timing, and rhythm.
General fitness
Even if you do not want to be a boxer, you can still benefit from using a speed bag. Regardless of your age or gender, it is a nice form of exercise. It strengthens your muscles and gives you a good cardio workout session. As the bag is lightweight and small, the risk of getting injured is also quite low. Did you have a long or stressful day? A speed bag exercise can help to reduce your stress. It is an overall great exercise for everyone interested.
Top 10 Best Boxing Speed Bags 2023

Why we like it:
If you are tired of speed boxing bags that require inflation or loop repair after each session, then you will like this speed bag as much as we did. Made of high-quality leather, it will not develop creases and scratchy patches no matter how hard you hit it. We also love the Kevlar used for the loop. This makes it one of the most durable boxing speed bags that we have ever come across.
Editor's Rating:
Construction
The Balaz leather speed bag features a nice sturdy construction that helps it retain its shape and overall quality despite a lot of punishment. The exterior is very smooth, and unlike other boxing speed bags, there is an absence of welts and laces. Even without wearing gloves, you can still hit these bags and not get injured or bruised. The bag comes in a variety of sizes, so there is something for everyone. There are; small, medium, large, and extra size. Everyone gets a bag that suits their needs.
Rebound
These boxing speed bags might not be as popular as the big names, but they deliver similarly, and even in some cases, better performance. The bags come with a perfectly centered ball that despite your hardest punches, never goes out of balance. Whether you are using the largest bag or the smallest, there is no beating the rebound of the Balaz. If you are a serious boxer looking for the best, then these bags should be your priority. They might come at a relatively high price, but they offer excellent performance that more than justifies the price tag.
Other Features
If you are tired of inflating your boxing speed bag after each session or repairing the loops, the Kevlar material the loops are made of will appeal to you.
Pros
It has the best rebound we have seen on a bag
Durable and impressive construction
It can be hit bare-knuckled

Why we like it:
As a boxer, it is unlikely that you have never heard of Cleto Reyes. This company consistently manufactures gear that is of high quality. When it comes to boxing, only a few names can claim the title of best gear manufacturer, and this company is one of such. The Ringside Cleto Reyes boxing speed bag is one of the best speed bags on the market. We like the durability and the balance on show.
Editor's Rating:
Construction
The all-leather construction of these boxing speed bags makes it feel like something you are meant to use forever. It is made of genuine leather, and smells like it too! Genuine leather is one of the most durable materials boxing gear can be made of.
Furthermore, the speed bag is handcrafted. Thus, you can be sure that every stitch is carefully made and controlled to be of the highest quality. There are no uncomfortable welts or any other stuff that can cause concern as far as the construction goes. You can choose your bag in 3 colors; Mexican, red, and black.
Rebound
While using this speed bag, we love the well-balanced feel it gives. The rebounds are swift and are some of the best (along with the Balaz listed above) we have ever tested. It provides a satisfying thump and importantly, it can take a good thumping. One factor that makes the rebound swift and so sweet is the latex rubber embedded in the bag. Some users have reported that after some days of constant use, the bag deflates and needs to be pumped. We also observed this during our testing. It seems Cleto Reyes realize this flaw and that is why an extra bladder comes in the package. Thus, if you want to replace a deflated bag, you do not have to spend extra; the extra bladder will serve you well.
Pros
The bag is handmade and of excellent quality
Rebounds are swift and sweet
Seams and stitches are made with care and will not fray
Cons
Some have reported deflating bags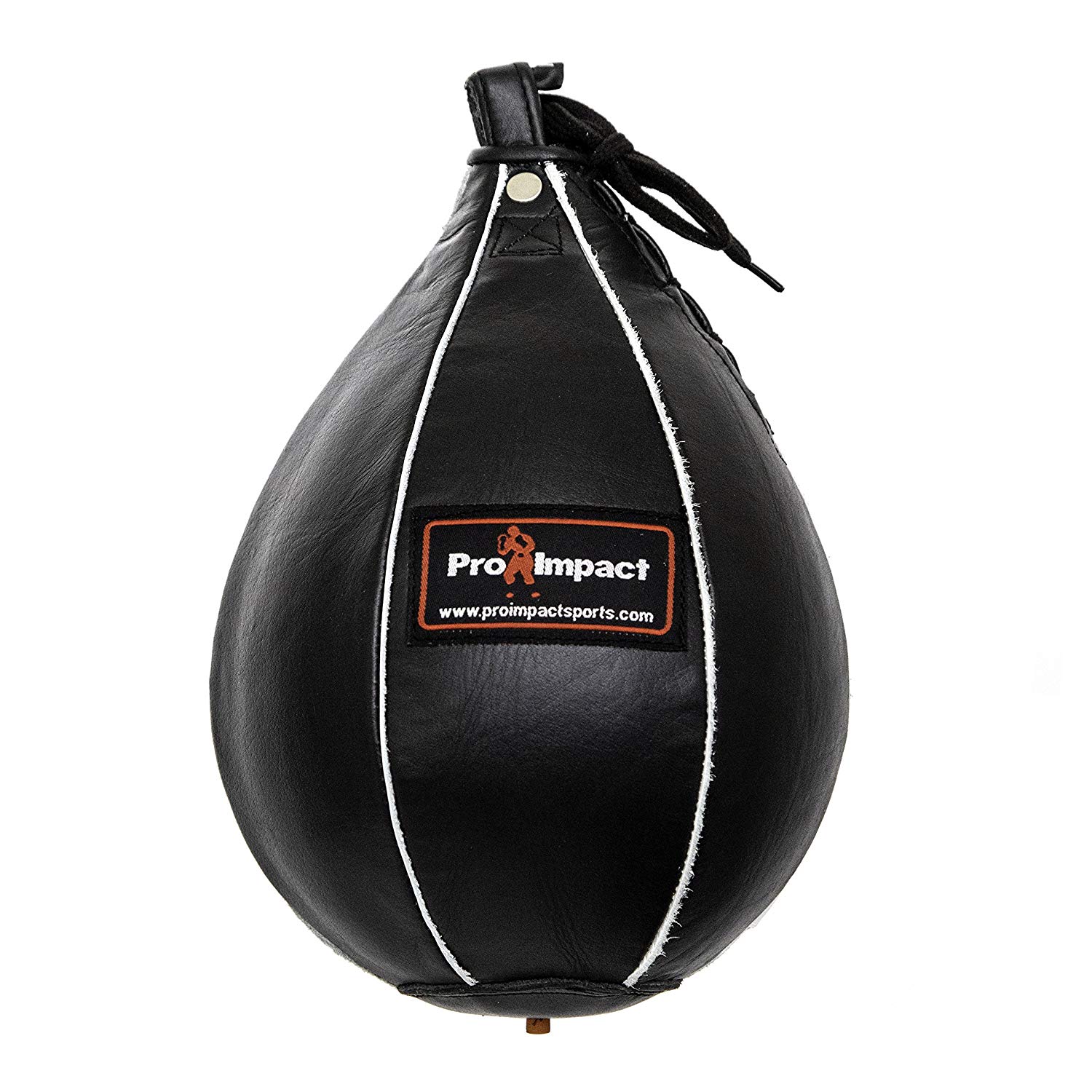 Why we like it:
Just as with Cleto Reyes above, Pro Impact is a household name in the world of sports, and especially boxing. They deliver once again a superior product that we cannot but like. The Pro Impact Speedbag comes with several useful features that we found crucial. For example, we like the reinforced stitching on these boxing speed bags that reduce the occurrence of fraying or splitting.
Editor's Rating:
Construction
The Speedbag is made of genuine leather, as befits a speed bag from a reputable manufacturer. Although many manufacturers opt for synthetic materials, nothing beats the durability and sheer awesomeness of 100% leather construction. All you need to do is care for it a little more than synthetic materials, and you will reap rich rewards. The bags have heavy-duty latex bladders that offer an excellent feel. It comes with reinforced stitching. Since speed bags receive loads of punishment, it is easy and very common to find them splitting at the seams. Not so with these bags from Pro Impact. The reinforced stitching along the seams ensure that no splitting or fraying occurs.
Other features
Despite the brand name and the apparent high quality, it is refreshing to see these boxing speed bags presented as a budget option. If you are looking for a high-quality speed bag that is very durable and gives an excellent performance while coming at a low price, there is almost no beating these bags.
Pros
The bags are made of 100% real leather that makes them durable
The latex bladder is heavy-duty and can take a beating
Excellent value for money
The seams are reinforced to prevent splitting

Why we like it:
If you are looking for a speed bag without lace, this is one of the best you can get. We like it because of the durable build that makes it ideal for powerful boxers. We also enjoy that you can use it with any variety of swivel. The 100% cowhide leather it is made of makes it one of the most robust speed bags out there as well.
Editor's Rating:
Construction
The bag features tough construction from top to bottom. It comes with a reinforced top loop that extends the longevity of the bag as well as adding a layer of protection and durability. It is made for hard hitters and tough guys and offers a professional experience. The exterior is from 100% genuine cowhide leather. Thus, whether you are a professional or an amateur, you will enjoy using this bag for your workout.
The seams on the bag are reinforced. Therefore, there is little to zero chance of fraying or splitting. One aspect we like in the construction of this bag is the triple-reinforced deep pile loop.
Other features
If you are in the market for a platform-mounted boxing speed bag, then this bag is ideal for you. Despite the impressive performance it offers, it comes at a relatively low price. The only possible problem that we encountered with the bag is the rubber bladder that slows it down.
Pros
The rubber bladder is easy to replace
The loop is triple reinforced
It is a lace-less speed bag
It has a robust construction
Cons
Rhythm is inconsistent
Many folks prefer to change the rubber bladder

Why we like it:
A list of the best speed boxing bags cannot be complete without including this monster. The Title Boxing Gyro is simply one of the best speed boxing bags you can ever buy. It comes with so many reasons to like it. As the name suggests, it is one of the few speed boxing bags that offer gyro-balance. This makes it so sweet to hit and makes the rebound even better.
Editor's Rating:
Construction
The bag is made of high-quality 100% leather. This makes it look not only great but also feel great to punch. The leather makes it durable as well. Aside from the leather, the overall construction screams quality, and it is almost impossible to find another bag that offers the same robust build. Like the Pro Impact, it comes with reinforced stitching at the seams. These triple stitched seams ensure that there is no fraying or splitting despite heavy use. The interior of the bag offers a rubber bladder. Although the rubber bladder makes it more substantial than its contemporaries, we found the weight bearable. And as a bonus, you do not have to inflate it regularly.
These speed bags come in a wide range of sizes so that there is something to satisfy everyone.
Rebound
The speed bags are Gyro-balanced. Gyroscope technology is usually found in smartphones, but Title has added this into these speed bags. What does this mean for the boxer? This means that rebound is phenomenal. When struck, the speed bag bounces to the angle of the strike. This keeps it swinging rhythmically and makes it easy for you to predict the position it will fall to. Hence your workout session is more optimized. Many might debate the science of this, but what we do know for sure is that these boxing speed bags are some of the most balanced we have ever tried.
Pros
It is made of 100% leather
The rubber bladder reduces deflation
It has a durable build and is triple stitched

Why we like it:
We like this bag for a couple of reasons. First, it comes from a highly reputable brand. Everlast is one of the most famous names when it comes to sports equipment. The Everlast Lite Speed bag features the trademark quality from the brand. The bladder is long-lasting and will serve you for a long time.
Editor's Rating:
Construction
The craftsmanship on the bag is quite impressive. The bag comes with reinforced seams to avoid tearing during or after use. It is well-balanced and will help any boxer improve their speed and accuracy. At first glance, it catches the eye. It comes with an attractive design with a beautiful leather exterior. On the body of the bag, you will find the Everlast logo boldly printed. During use, we found this useful as a target point when hitting the bag. To assist the bag last longer, the swivel it hangs from is made of nothing else but high tensile steel. This makes it durable and gives it a nice rebound. The speed bag comes in 2 sizes you can choose from.
Performance
During our test of the Everlast speed bag, we found it comfortable to hit and great for training. It is air-filled; therefore, it is slightly soft when compared with some others on this list. We started out with a smaller size, but if you are a newbie, we recommend starting with the bigger size. We recommend this because the smaller one moves so quickly, and if you are not experienced; it can make it hard to get into a rhythm. Overall, it is one of the best punching speed bags on the market. One problem we have with it is that the model we tested leaks quite quickly, and we found ourselves regularly inflating it. However, other users have reported no such thing, so it's a mixed bag of reports.
Pros
It is quick and very light
It comes at an affordable price

Why we like it:
As a boxer, the odds are that at one point or the other, you have heard about Ringside. They are not widely known outside boxing circles, but many professional boxers can swear by the quality of their products. Many products from this company are made of a mix of different materials, but what we like about the Ringside Heritage Speed bag is that it is made from 100% real leather. Thus, it is made to last.
Editor's Rating:
Construction
Styled after vintage boxing equipment, this speed bag from Heritage sports a genuine leather construction that underlines the quality and the performance. As a boxer, you are aware of what happens when a speed bag is put under immense pressure. A bag of low quality will fray at the seams and pop. Ringside also realizes the danger therein. Thus, all the seams of this punching speed bag are reinforced. This prevents fraying and extends the lifespan of the bag.
Performance
The bag delivers a performance worthy of the manufacturer. The riveted top loop on this bag ensures you get your money's worth. Even under the most forceful punches, the bag remains firm, and it holds. The bag might be pricier than most, but with the reinforced seams and the attractive vintage appearance, it is worth every penny.
Pros
It is made from real leather
It is durable as all the seas are reinforced
It has an attractive vintage look
Rebound is solid

Why we like it:
As it is a lace punching speed bag, you might be surprised to find the Title Classic on this list of the best punching speed bags. However, it earns a deserved spot on this list for a couple of reasons. First, despite being a laced bag, the traditional lacing system makes it quite easy to use. Also, it is made of leather and has tripe stitched welted seams. Lastly, it is one of the cheapest bags you can get that doesn't sacrifice performance.
Editor's Rating:
Construction
Made by Title, the Title Classic is one of the best speed bags from the manufacturer. The construction is excellent and makes it feel even more expensive than it is. It is made of 100% genuine leather and comes with triple-stitched welted seams. This feature ensures that regardless of how hard you hit, or how often you use the bag, it will not fail. The pear-shaped design makes it easy to target and direct. It comes in vivid red color and black laces. The bag has a large opening that allows you to change the bladder in a jiffy. The leather loop is reinforced to make it more durable. For this price, you will not find a better-constructed speed bag.
Performance
The speed bag is designed for speed. The pear-shaped design and the build make this evident. It is small in size, and although there is a medium-size this also is built for speed. The balance is quite lovely. Coupled with the lightweight nature, you will be hard-pressed to find a speedier punching bag. If you want even faster performance, switch the rubber bladder with a latex bladder and be blown away by the speed.
Pros
It is built for speed
There are no leaking issues
The construction is robust and durable
It is easy to change the bladder
It is cheap
Cons
It might chafe your knuckles

Why we like it:
RDX is another household name in the boxing industry. The company has, over the years, produced some of the best gear that every boxer needs to be successful. The RDX Double End speed bag continues the tradition of high-quality products from the company. We like the dual mounting feature on it that offers versatility not found on any of the previous bags on this list.
Editor's Rating:
Construction
The Double End bag comes in a special design. As the name implies, it has a double end, I.e., it can be mounted in two places. It comes with an upper and lower anchor, which can be used depending on the preference of the boxer. It doesn't feature 100% genuine leather, which is a bummer, but it comes with high-quality faux leather. Although this lends it durability, it is not as durable as punching speed bags with genuine leather interiors.
Performance
The speed bag is quite easy to mount. All the hardware you require to install it is included in the packaging. Thus, there is no need to buy extra equipment. We found it very convenient to use. The mounting ropes are adjustable and are used to control the exact level of movement the bag has. You can also use this bag for other training exercises as the height is easily adjustable.
Other features
The speed bag comes at a reasonable price. It might not be cheap, but neither is it very expensive. Considering the features, the addition of all the installation hardware you need, and the brand, we daresay you are getting it at a bargain!
Pros
The construction is solid and built to last
It has a dual mounting system
It can be used for a variety of exercises
It comes with all the installation hardware required
Cons
It isn't made from real leather

Why we like it:
Kuyou might not be a famous name in boxing, but the company has a plethora of products in other industries that are of high quality. We were therefore pleased when we discovered that the company brought this energy in the production of the Kuyou Double End. Just like the RDX on this list, the Kuyou Double End comes with a dual support system as well. It is durable and can be used across a range of sports.
Editor's Rating:
Construction
The speed bag is constructed from a special PU material, that the company claims as durable as real leather. However, reviews from folks show that while it is durable, it is not as great as the real deal. They are anchors on either end of the bag. This allows you to fix it in a variety of positions depending on what you want.
Performance
The manufacturer lists this bag as a universal bag; hence, you can use it across different martial sports from boxing to MMA, or just for training. During our testing, we found it satisfactory but not special. The elastic ropes are quite durable. You can adjust the length and the tension as well. It can be mounted either from top and bottom or from side to side.
If you are a pure boxer, you might not fall in love with this bag; however, if you are using it for exercise or across different sports, or if you are a beginner just setting out with speed bags, it is ideal for you. It comes at a really affordable price, which is another draw.
Pros
It is quite cheap
It is easy to use
It is versatile
Guide to Buying the Best Boxing Speed Bags
We have provided a compilation of the ten best speed bags on the market. This compilation will assist you in narrowing your options and make choosing the right speed bag easier. Now in this section, we will consider some of the critical factors to consider when choosing the best boxing speed bags for you.
Speed bags come in different styles and have specific features; however, there are some essential features that every speed bags have that have to be considered before purchase. Here are they:
Type of Swivel
When setting up a speed bag, the swivel is a vital piece of equipment that you need. The swivel refers to the section of equipment responsible for fixing the bag to the rest of the speed bag platform. There are many types of swivels on the market, but here are the important ones;
Ball-Hook Swivel
This swivel is a simple type of swivel that just requires you to hook the bag to it. It allows you to fix and unfix the bag easily. Among boxers, it is widely accepted that speed bags with a Ball-Hook swivel deliver the most accurate rebounds. In the past, these swivels were mostly made of metal, but with improved technology, a variety of materials are used to make them.
Speed bags with Ball-Hook swivels tend to be a tad noisy, so if you are looking to practice or exercise in relative quiet, it might not be the ideal type for you.
Chain-link Swivel
These swivels are suitable for a quiet session as the design ensures that no moving parts rub against each other. They are commonly found in gyms around the country. However, speed bags that have this style of swivel also come with disadvantages.
First, once fixed, it can be a challenge removing the speed bag. Secondly, they require frequent lubrication, or else, they become noisy.
U-Bolt Swivel
This is the most popular type of swivel and for a good reason! It is designed to facilitate excellent rebounds. It is very easy to fix the speed bag and remove the bag.
The only disadvantage with this swivel style is that the shape might cause the speed bag to slide along the length, thus making for some awkward rebounds. However, this can be easily remedied by adding some tape to the top of the bag.
Price
Just as with any gear you want to buy, you need to consider how much you are willing to spend. The higher the price, in most cases, the higher the quality. It is great that speed bags aren't nearly as expensive as other types of punching bags. However, this benefit can also be a disadvantage. You might go for a really cheap speed bag and end up regretting because of the abysmal quality.
Since these bags usually come cheap (even the high-quality versions), it is easy to buy a quality bag without sinking your budget.
Quality & Material
The material the speed bag is made of will affect the price and the quality. The best material for speed bag is leather. 100% genuine leather is durable, sturdy, and will last for years. It feels excellent when hit and gives a satisfying sound. Synthetic leather is not as great as the real thing. It might be durable, but it won't give the same satisfaction and performance. However, it is cheaper than speed bags made of genuine leather.
Another material is canvas. These are nowhere near the quality of genuine or synthetic leather, although they are cheaper. We do not recommend speed bags made from this material because they do not last, and they feel terrible.
If the price isn't an issue, we recommend that you buy real-leather speed bags. These will give you excellent value for money and will last for a long time.
Along with the material, it is vital to consider the craftsmanship of the bag. Since the speed bag will undergo great amounts of pressure frequently, you should buy bags that have reinforced seams. If you do not get these types of speed bags, prepare to replace your speed bag after one or two sessions.
The Bladder Material
The interior of your speed bag is as essential as the exterior. The bladder refers to the part of the bag that gives it its shape. Just as with the surface, there are different types of materials used to make the bladder of the speed bag.
Latex rubber is the best material for a speed bags' bladder. Why? It is the best because it lasts for a long time, it isn't heavy, and it gives an impressive rebound. There are also plastic material and butyl material. These are not as great as latex rubber. They do not deliver rebounds as accurate as those from latex rubber, they are not as lightweight, and they are not as durable.
While choosing the material for the bladder, you should also choose one that doesn't require you to inflate it every other day as this can be frustrating.
Size
The size of the speed bag will depend on several things. It will depend on your ability, the strength of punching, the punching style, and so on. The smaller the bag, the faster it is. Thus, if you are a beginner, it is recommended that you seek out a bigger speed bag as this will be easier to control than a small one. If you are planning on opening a gym, then it is better to get speed bags in different sizes so that everyone will have a suitable bag.
Conclusion
Speed bags are a very vital part of your training and exercise. They come in different styles and have unique features. They are also cheaper than other types of punching bags. Therefore, buying one requires plenty of research and meditation. There are so many options on the market, and as technology marches forward, more styles will be made.
It is essential to consider the factors we have listed in our buying guide. That way, even if things change, you can still have guidelines that can help you make the right choice. By marrying your needs with the punching speed bag, you will be able to find one that you can use for an extended period. This review and guide will assist you in choosing the best boxing speed bags!